A collection of stuff you need from Fort Worth creatives and other cool people.
Now On sale
Many of our 100% silk scarves and wild rags, along with our unique jewelry, have been marked down as we prepare for new, incoming inventory. Check out BEST SELLERS HERE. They won't last long!
BEST SELLERS
SHOP LOCALLY
You call or text Jennifer to shop by appointment or for local pickup,
(817) 845-1330
You can also find our brick-and-mortar shopping seven days a week at The Market Ridglea:
3400 Bernie Anderson Ave
Fort Worth, TX 76116
Monday-Saturday 10-6, Sunday 12-6
Shop online 24-7
OUR STORY
The FORT features our own exclusive designs but also brings you collaborations between friends, colleagues, creatives, entrepreneurs, and hard to find independent makers. It's tough to find one-of-a-kind products through the clutter of like shopping in today's market! Shop The FORT for truly unrepeatable, high quality, modern western treasures.
LEARN MORE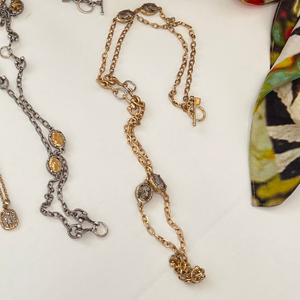 https://www.instagram.com/thefort_tx/